18 Nov 2017
Comunello Gate Automation Workshop for installers in Lazio region, Italy
Practical Technical Deployment Workshop on Gate Automation Products, Closing Systems Automation, Garage Automation, and Road Barriers Automation.
On Thursday November 16, 2017, at Corporate headquarters in Bassano del Grappa, Vicenza, Italy, Comunello held the "Automation Installer Seminar". The workshop was for professionals operating in the Lazio region: all present could try the latest components developed by the Comunello Automation Division.
---
SCHEDULE
Reception and registration
Workshop presentation by the Marketing Director and Product Managers
Guided tour of the Comunello Production Facilities
Product Show Room visit
Technical Training at Comunello Lab
Updates on latest mechanical automation developments
Details on Swing Gate motorization (both single and double leaf)
Details on Sliding gate motorization
Installation specs for motorized Road Barriers
Training on Electronic Boards
In-depth analysis of Comunello ONE Automation Technology
In-depth analysis of Automation with Comunello HP Control Accessories
Live Tests Session of Motor installations and Electronic calibration
---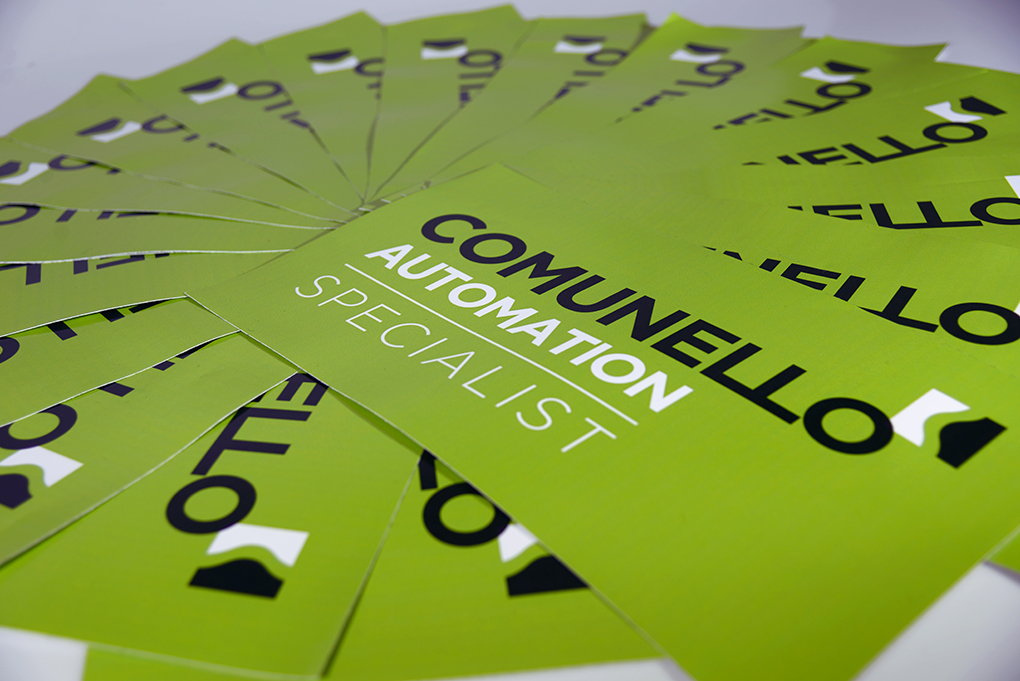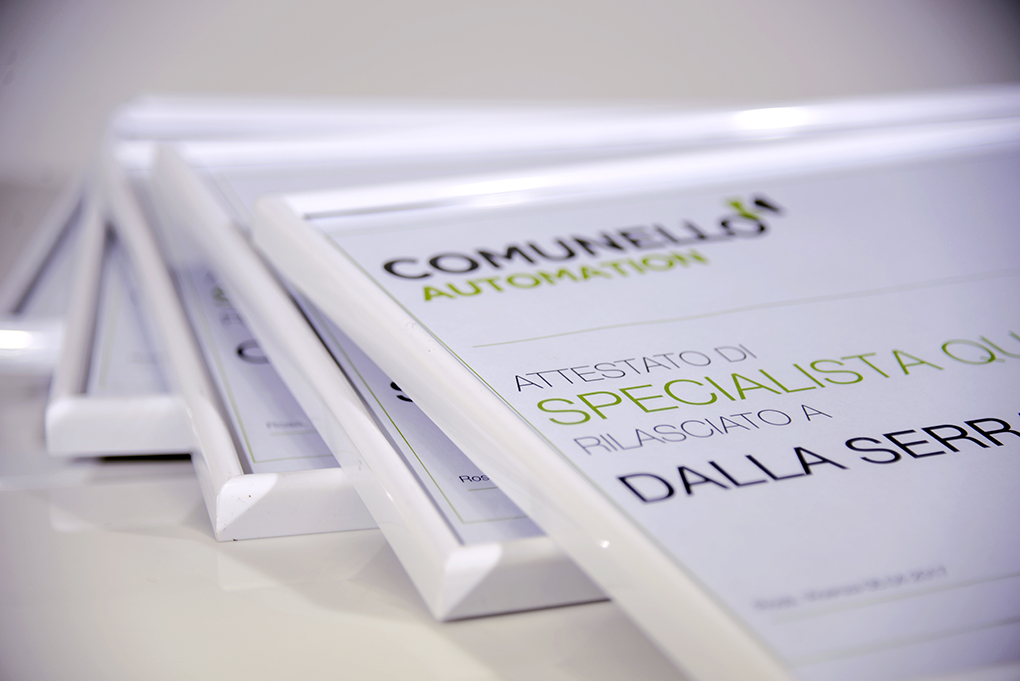 The essential technical heart of Comunello's Automation Division is the Comunello HP Control Board, a control system that is mounted on board of the electromechanical actuators such as gates, garage door motors and road barrier motors. The power supply of the control board is a 24 V HP and can be used in systems that serve 1 or 2 motors depending on weight and closing speed.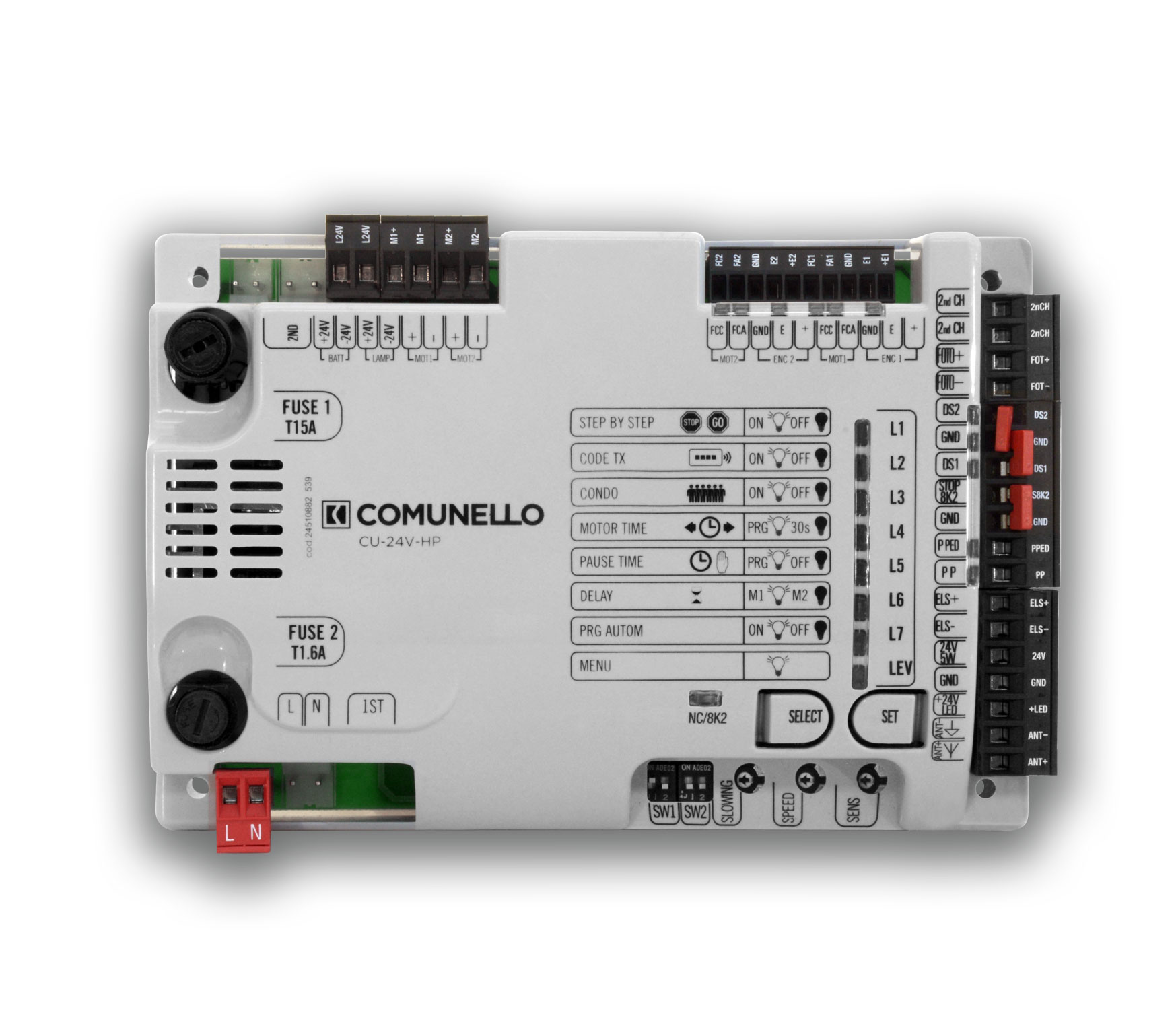 The Technical Features of the CU 24V HP control board are as follows:
Microprocessor operated logic, dual input encoder and limit switch for two motor outputs
Simplified, easily programmable led, trimmer and dip switch
Obstruction detection function
Force and slowdown adjustment
Wide range of input and output features
Built-in radio receiver
Removable code and settings memory
Automatic programming
Photo test
Second radio channel
Programmable 8K2 input
Conversely, Comunello One Technology is an extremely intelligent control board that recognizes and identifies all peripheral accessories connected to it regardless of the terminal to which they are connected. All accessories can easily be linked by using the 2-wire BUS connection and can be connected in any point of the dedicated area.
The Automation Installer Seminar was an effective moment to detail the new features of the latest firmware released by Comunello's Automation Division. An in-depth analysis was conducted in regards to the Programming of Control Panels, supported by "Service Comunello", a team that is fully dedicated to supplying Installers with Technical Assistance.